How Monday's Make Me Feel
Happy Monday to all in bloggerland! Well, as happy as you can be on a Monday. I myself am battling my fist cold of the season and am going through Kleenex boxes like you wouldn't even believe. I might break a record at work today and go through 2 boxes.
Digressing...
Weekend Recap:
Saturday: As I mentioned on Friday's post, I had "big things" happening on Saturday, and indeed, big things were done. I am in the process of testing with police departments throughout the Chicagoland area and Saturday's test was my second one. It was only the physical agility test (which I am proud to report that I passed. Woo!) and will have to take the department's written test this coming Saturday. I will be studying my sick booty off all this week and crossing my fingers that I do well enough to land an interview (they are only taking the first 20 people who do well on the test. Eeeek!).
Saturday evening was spent having sushi with my gal pals, Maria, Liz & Chloe. The last time I had sushi was in August 2011 and let's just say that I will [probably] not be having sushi again for a verryyyy long time. Don't get me wrong, I love sushi, but my insides can't seem to handle it. I felt like a beached whale after dinner and that's just no way to spend a Saturday night.
Sunday: As I also mentioned on Friday's post, I was supposed to volunteer at the Bank of America Chicago Marathon. Well, that didn't happen. I woke up with a terrible cold and just couldn't stomach going in at 5 am and being in the cold for nearly 10 hours. Instead, I spent my day at my parent's house watching the Kardashisans with a box of kleenex. What a joy.
Here's to hoping I kick this cold relatively soon and get back to my usual routine. I'm already tired of the niagra falls of snot coming out of my nose. Classy, I know.
And now, linking up with Meg for Mingle Monday: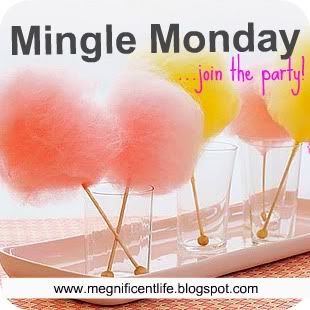 What is the fall fashion trend you are most excited to try out?
I am most excited to add some color to my wardrobe (since I usually tend to stick with blacks and greys) with some colored skinny jeans. Also, I want to rock some oversized sweaters with some leggings and killer boots (preferably some Tory Burch boots hehe).
Hope everyone had a fabulous weekend!
Besos,
Steph.